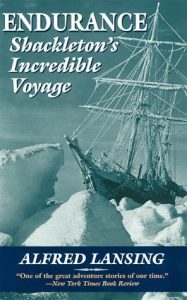 This week I'm highlighting something that's been in the news! On March 5, 2022, Ernest Shackleton's ship was discovered almost 2 miles down, at the bottom of the Weddell Sea, Antarctica. Read an article about it here, or watch some videos of the footage of the found ship on YouTube. Many accounts of the incredible story of survival of Sir Ernest and his crew have been written. You can listen to the first chapter of the book – Endurance – Shackleton's Incredible Voyage, by Alfred Lansing. This book is available at the Skyview Library, and also on Sora. To listen to other First Chapter reads, click here.
Genre: nonfiction, adventure, survival
About the book: In August 1914, polar explorer Ernest Shackleton boarded the Endurance and set sail for Antarctica, where he planned to cross the last uncharted continent on foot. In January 1915, after battling its way through a thousand miles of pack ice and only a day's sail short of its destination, the Endurance became locked in an island of ice. Thus began the legendary ordeal of Shackleton and his crew of twenty-seven men. When their ship was finally crushed between two ice floes, they attempted a near-impossible journey over 850 miles of the South Atlantic's heaviest seas to the closest outpost of civilization. In Endurance, the definitive account of Ernest Shackleton's fateful trip, Alfred Lansing brilliantly narrates the harrowing and miraculous voyage that has defined heroism for the modern age.